chemical and life sciences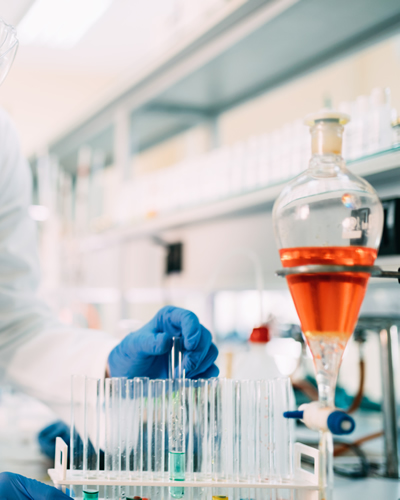 In 2021, the World Health Organization classified the Colombian health system as the best in Latin America, and even better ranked than countries such as USA, Canada, and Germany. Also, Colombia is the 3rd country in the region with the highest public spending on health (as a percentage of the total), which has resulted in the procurement of world-class infrastructure, personnel, technology, and equipment. Opportunity: Establishment of clinical research centers with new technologies that allow to carry out phase 1 and 2 investigations, as well as clinical studies for different pathologies.

Local pharmaceutical products sales are estimated to exceed USD 8.1 billion by 2028, showing an average annual growth of 6.5% between 2020 - 2028. In Colombia, 26% of active pharmaceutical ingredient purchases are used to manufacture pharmaceutical products. It is estimated that the commercialization of active ingredients for chemical synthesis in the country will grow in the coming years and will exceed USD 500 million in 2028. Opportunity: Establishment of active pharmaceutical ingredients production facility using a nearshoring strategy.

According to the World Health Organization, Colombia is one of the countries in America with the highest rates of population coverage for different vaccines. Currently, 100% of the vaccines for human use that are supplied in the country are imported. Colombia has an average health coverage of 98% of total population, one of the highest in the region. In the last 3 years, 2018 - 2020, Colombian veterinary pharmaceutical exports grew (in value) at an average annual rate of 4.6%, registering exports over USD 33.8 million in 2020 and reaching almost 20 countries in the world. Opportunity: Seeking greater sanitary autonomy, establishment of vaccine production plants, not necessarily of a high technological level.

In the last 5 years, the national consumption of plastic resins has grown an average of 5.2%, mainly driven by the demand for PET. The stratified rate system, as well as the agreements with service providers, position Colombia as a leading country in recycling rates in the region (above 15%). Opportunity: Generation of recovery schemes for PET containers nationwide for sale to local companies dedicated to their use.

According to Cluster Development, the natural ingredient industry in Colombia has the potential to reach USD 15 million in market size by 2032. It is expected that Colombian natural ingredients exports reach USD 30 million this year. Opportunity: Development of research centers for production of cosmetics based on natural ingredients or the extraction of essential and vegetable oils.

Colombia is a competitive export platform for pharmaceuticals to the region. In the last 3 years, 2018 - 2020, Colombian pharmaceutical exports grew (in volume) at an average annual rate of 11.5%, registering exports over USD 332 million in 2020 and reaching more than 50 countries in the world. More than 25% of Colombian exports in the pharmaceutical sector were carried out by multinational companies. Opportunity: Development of logistics and production centers to supply the growing Latin American market.

Colombia has positioned as an agrochemical export hub for the region. Leading companies in the sector such as Bayer, UPL and Yara have located their production and logistics operations in Colombia to serve markets such as Brazil, Ecuador, Mexico, Peru and Argentina. Agrochemical exports reached a value of USD 422.7 million. The Colombian countryside has the potential to become an agricultural power in the region: Colombia is the 5th biggest country in Latin America, with a surface of 114 million hectares, of which, 40 million have been declared as the national agricultural frontier (35% of the national territory). Thera are only about 8 million cultivated, so the potential for agricultural development is quite significant (where 20% is being exploited in agricultural crops). Opportunity: Establish agrochemical distribution centers to take advantage of Colombia as an export platform for the region.