hospitability and tourism infraestructure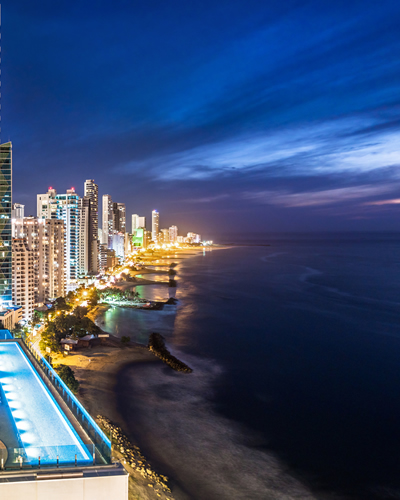 Colombia is one of the world's top destinations as the figures show: In 2018, the were 4.3 million visitors. Inbound tourism in Colombia grew 7.7 % compared to 2017, twice than America's growth. From January to November of 2019, Colombia received 3.9 million visitors, increasing 4.1% compared to the same period of 2018, amounting to 3.8 million visitors. At the end of 2018, there were positive figures for the arrival of non-resident foreigners (9.9%) and cruise ship visitors (9.7%) (Migration Colombia – MinCit).
In Latin America, the greenfield projects concentrate 69.9% of the foreign investment of the tourism sector, having a total of 58 projects and the rest of the world 83 projects. Between 2010 and 2019, Colombia was the first country with the largest number of FDI projects in the tourism sector, with 15 in total. The country is above Peru (12), Argentina (9), Mexico (5), Brazil (4), Chile (4), Ecuador (2), Costa Rica (2), Panama (1), Honduras (1), Bolivia (1), Guatemala (1) and Dominican Republic (1).
From 2010 to 2019, the jobs created by the hotel and tourism sector represented 29.35% of the jobs created in the world. In Colombia, in 2019, 1,455 new jobs were created, increasing by 21.92% compared to 2018 (1,136). From 2010 to 2019, the employment generated by the sector reached 18,394 people. In 2018, the total amount of employments generated by the tourism sector was 1.9 million.
Colombia has 13 international airports and more than 1,100 direct weekly flights that connect the country with the rest of the world and more than 194,000 available seats in direct flights. Currently, 26 international airlines operate directly from Colombia, and have direct connectivity with 27 countries and 50 international cities.
For 2019, Colombia registered 57,356 annual frequencies, more than Ecuador (16,491), Costa Rica (26,011) Chile (33,681), Peru (41,041) and Dominican Republic (49,411), but fewer than Mexico (186,823).
According to Cotelco, the average hotel occupancy rate in Colombia was 56.96% in 2019, less than Peru (85%) and Mexico (61.9%), but above Chile (50%).
HOSPITALITY INFRASTRUCTURE OPPORTUNITIES
During 2019, those who made new investments in Colombia, equal to 34,300,000 UVT (aprox. USD 342 million), and creating at least 142 direct jobs, are entitled to some benefits.