Hospitality and Tourism Infrastructure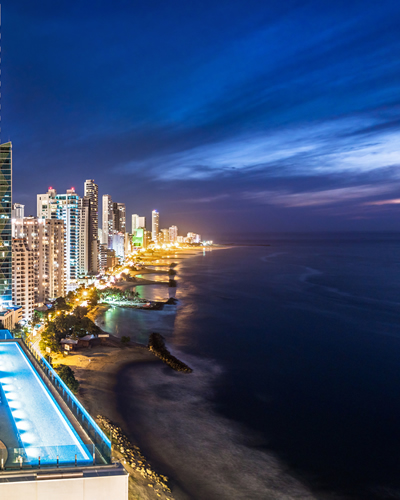 Colombia has positioned as an attractive international touristic destination, which has undergone an important dynamism in the past few years. An average annual growth of 9% in the arrival of non-resident visitors between 2012 and 2019, above the global growth of 5.3% demonstrated the growing trend. In 2019 alone, record figures were reached in the country with more than 4.5 million non-resident visitors.

In 2020, amidst border control restrictions due to COVID-19 between March and September more than 418,000 non-resident visitors from the US, Chile, Mexico, Peru, and Argentina arrived in Colombia. Furthermore, between October and April, the arrival of non-resident visitors to Colombia has shown an average increase of 70%.

Colombia has taken the lead in tourism recovery rates by being the third country in the region, after Mexico and Ecuador, with the best recovery of international air connectivity. Currently 20 airlines connect 8 regions of Colombia with over 22 international destinations, which means 52.6% more seats and 49.2% frequencies when compared to data before the pandemic. In addition to that 7 new international air routes have been announced in 2021 and 14 additional ones are expected in the next few months.

Colombia and its tourist destinations enjoy global recognition. During the World Travel Awards 2021, Colombia was nominated to 14 South American categories. International outlets such as The New York Times, Condé Nast Traveller, Lonely Planet and The Telegraph have included or recommended Colombia as a top destination for 2021.

Colombia has positioned sustainability at the fore front of its tourism policy. Hence, a new Sustainable Tourism Law has been designed to bolster conservation projects and protection of natural tourist attractions. Colombia in one of the few countries in the world to have such a policy.

Given the diversity of regions and climates in Colombia, there is great potential to invest in segments such as ecotourism, urban hotels, theme parks and entertainment infrastructure. Specific opportunities in the country related to glamping, and spa and wellness centers are being consolidated as one of the most attractive for international investors.

When it comes to incentives, the General Tourism Law (Law 2068 of December 31, 2020) incorporates preferential income tax rates for hotels, theme parks, agrotourism, ecotourism, and new docks.

Tourism related investments in municipalities with less than 200 thousand inhabitants will have a reduced income tax rate of 9% for a period of 20 years, this incentive is accessible until 2030. For cities with more than 200 thousand inhabitants, this benefit will apply for 10 years, and will remain available for applications before 2026.

Additional benefits for the tourism value chain (care services, food, nursing, accommodation, physiotherapy, recovery, and other assistance services provided in centers for elderly tourists) can also enjoy a preferential income tax rate of 9% rate for a period of 10 years.

To mitigate the impact of the pandemic in the sector the new Tourism Law established a transitory VAT exemption) for hotel and tourism services as well as other related activities and a special VAT reduction on air tickets, from 19% to 5% (measure applies until 2022).