metal working and other industries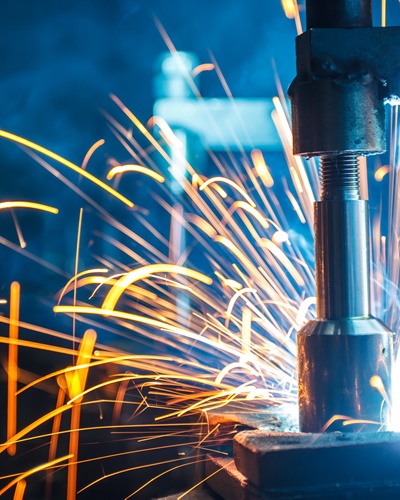 The construction industry in Colombia, which represents more than 5% of the country's GDP, estimates a 17.2% growth for 2021 compared to the previous year, higher than countries such as Brazil, Chile, and Mexico.

Between 2003 and 2020, Colombia hosted 24 FDI projects in the construction materials sector, after Brazil (34), and above Argentina (17), Mexico (15), Panama (11), Chile (9), Honduras (6), Peru (6) and Ecuador (5) (FDI Markets).

In Colombia there are more than 25,000 national and foreign companies associated with the construction materials industry that respond to a high demand due to the growth of the construction sector. This growth is related to different factors such as the approval of 16.7 million m2 for construction in 2020, especially in the housing sector (79.8%), retail (7.4%), and various infrastructure projects, including 12 5G initiatives estimated at $5.7 billion.

The competitive costs in salaries and a skilled workforce for the shipyard industry, allows the repair of medium-sized vessels for the jurisdiction of the United States, Central America, and the Caribbean.

Colombia offers opportunities for aircraft maintenance operations given the growth expectations in the aircraft fleet in Latin America, both for passenger and cargo transport. In Colombia there are 89 registered workshops that offer a wide variety of services, as well as 67 training centers and 15 educational institutions that offer programs related to the aeronautical industry.

A low motorization rate represents an investment opportunity for vehicle assemblers. In Colombia, there are 74 vehicles per 1,000 inhabitants. The average for the LATAM region is approximately 173 vehicles per 1,000 inhabitants.

In 2020, more than 188,000 vehicles were sold in Colombia. The total fleet of vehicles in Colombia was 6.4 million in 2020, reaching exports of USD 249 million and production of 105,000 vehicles. This places the country as the fourth largest manufacturer in Latin America. A 6% growth in vehicle sales is expected in Colombia between 2021 and 2025.

Some investment opportunities are identified: in cargo vehicles the Ministry of Transport plans to renew by 2025 more than 25,000 cargo vehicles with more than 20 years of service; the renewal of the bus fleet by public transport (BRT) operators in the main cities of the country also presents opportunities for companies in the assembly sector; finally, in the assembly of SUV vehicles due to its higher sales in last years.

With almost 9 million motorcycles in circulation, Colombia has the second largest motorcycle fleet in the region, after Brazil (28 million units), and above countries such as Guatemala (1.3 million units) and Mexico (1.2 million units).

Electric vehicles are a growing opportunity in the Colombian market. Sales of these vehicles had a growth of 92% in 2020, compared to the previous year, reaching sales of 6,011 units. Additionally, the Ministry of Environment has developed the National Electric Mobility Strategy (ENME), in which it estimates to reach 600,000 electric vehicles circulating throughout the country by 2030.
TEXTILE AND CLOTHING
The sector is one of the most dynamic in the Colombian economy. It represents around 8% of the industrial GDP and employs more than 540,000 people.

The sector has acquired specialization and recognition by exporting products with higher added value. Colombia is the fourth exporter of clothing and seventh of textiles in Latin America. In 2020, more than 1,300 companies exported products worth USD 10,000 or more to more than 100 countries.

Colombia has a robust business cluster in the sector of more than 17,000 companies, mostly micro-companies and SMEs, with a qualified, specialized and internationally recognized workforce.

The industry has a diversified product offering, which is well-known for its high-quality dressmaking, fine jewelry and fashion jewelry, textiles and supplies, leather and leather products, and footwear and footwear materials.

Colombia offers unique designs at the forefront of global trends, incorporating contemporary designs with artisanal techniques, ethnically inspired garments, and much more. The Colombian fashion industry is innovative and has made progress in the production of garments with functional features, such as high UV protection, breathability, and quick dry fabrics.

Colombia stands out as the first exporter of shapewear and control clothing in the Americas and the second worldwide; the leading exporter of apparel and clothing accessories, not knitted or crocheted in South America; first country in Latin America in ethical practices and sustainable development; and second country in Latin America in Social Responsibility.

Colombian companies offer a flexible production to adjust to customer requirements, providing a designer option and a full-package service, adjusting the order size to meet the customer's needs, and quickly responding to resupply orders.

The presence of experienced and traditional textile companies with steady development and production capacity, offer an ideal platform for the manufacturing process and a vertically integrated industry.

The sector presents investment opportunities in cotton yarns and fabrics and production facilities of raw materials, synthetic and artificial filaments.