Alan Bojanic
Representative for Colombia FAO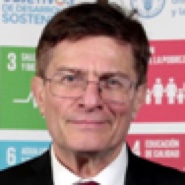 Doctor in Agricultural Economics from the University of London, Environmental Economics from the University of Utrecht and in Political Science from the University of Costa Rica.


In his last positions, he has served as representative of FAO in Brazil, FAO in Costa Rica and Executive Director of the National Secretariat for the Environment (Bolivia).


He has worked as a consultant for various cooperation agencies such as UNDP, World Bank, USAID and UNICEF.


With FAO, he has developed topics such as field improvement and modernization, family farming, creation of public policies to guarantee Food and Nutritional Security, land governance, risk management and protection of natural resources.