Carlos Mario Estrada Molina
Director General, SENA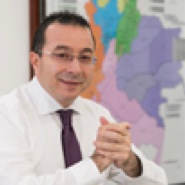 He is a business administrator from Universidad Eafit in Medellín, alma mater where he completed a specialization in Marketing and a Master's degree in Government and Public Policy.


The General Director of SENA has worked in prominent positions in private sector institutions such as Administradora de Fondos de Pensiones y Cesantías Colpatria, Factoring Bancolombia, Telefónica Móviles Colombia S. A., Movistar, Banco AV Villas, Edatel, Edatel and Edatel. - Movistar, Banco AV Villas, Edatel and Caja de Compensación Familiar Comfenalco Antioquia, where he served as administrative director between 2012 and 2018.


Likewise, he has been a member of Boards of Directors and Executive Boards of Teleantioquia, EPM Bogotá, Asopagos, Asocajas and Universidad de Antioquia, among other entities.