Eduardo Arce Parellada
General Manager / Sanofi's Regional General Medicine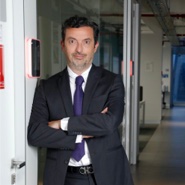 He is the leader of the General Medicines unit at Sanofi. They have a diversified portfolio of iconic brands and essential medications to satisfy the needs of millions of patients with chronic illnesses. They're focus is pioneering initiatives that transform the practice of medicine and help patients better their life conditions. Eduardo and his team are guiding the way as leaders, to bring innovative solutions with the use of technologies to promote integrated health systems that are sustainable on the long run.


So far, Arce Parellada has more than 20 years of experience at Sanofi. First, in 1999 he was the Marketing Director, then the occupied various positions with bigger responsibilities for the company, and recently he was the head of external affairs for Latin America. In may of 2021, he has appointed to his current position as General Manager of General Medicines for the COPAC region: Colombia, Perú, Ecuador, Bolivia, Central America and the Caribbean.


Eduardo has a master's degree in business administration from the Burgundy School of Business and a double degree in pharmacy and pharmaceutical companies management from the Universitat de Barcelona and tha Universitat Autonoma de Barcelona. Also, he is a husband and father of two children. When he is not at the office, it's possible he's practicing tennis or swimming.