Flavia Santoro Trujillo
President ProColombia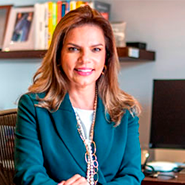 Flavia Santoro is President of ProColombia, a government institution focused on promoting foreign direct investment, exports, and tourism for Colombia, as well as strengthening international ties that open up new business opportunities for the country. Ms. Santoro graduated as a lawyer from the Javeriana University in Bogotá and holds a Master's degree in Insurance Law from the same institution.


Her professional experience includes various sectors such as consulting, insurance, international speaker forums and nonprofit organizations.


Prior to her current role, Flavia was an active member of the Financial Committee for current President Ivan Duque´s campaign. She was also Director of the Administrative Board of the Political Party Centro Democrático and Director of the Financial Committee of presidential candidate, Oscar Ivan Zuluaga's campaign in 2014.


Flavia feels honored to be the Commercial Ambassador of Colombia for both local businesses and Foreign Investors. To that end, she leads eight regional offices of ProColombia in the country and 23 commercial offices around the world.