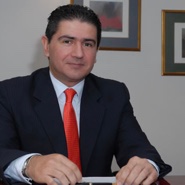 Graduate studies in medicine at Universidad de Caldas, Juan Carlos specialized in High State Management at ESAP, he is master in Health Management from Pontificia Universidad Javeriana, and in Health Centers and Services Management from Universidad de Barcelona.


After being a consultant at the Health Division of the National Planning Department, he was Viceminister of Health between 1997 and 1998.


He was minister in charge in several ocations, including the national strike by public health workers in June, 1997.


Afer the change of government in August, 1998, he held the title of Health Advocate at the Office of the Ombudsman.


In 2000 Giraldo was appointed president of the Colombian Hospitals and Clinics Association (ACHC).