Juan Pablo Ortega
Cofounder Rappi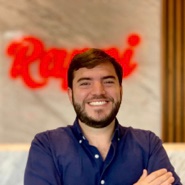 Juan Pablo Ortega is a Co-Founder of Rappi, Latin America's largest and fastest-growing on-demand platform and one of the region's "unicorn" startups.


As co-founder, Juan Pablo has played an instrumental role in taking the company from being a small team food delivery startup to becoming one of the region's largest, multi-functional digital platforms with operations in nine countries and a valuation of ~$5.2B.


Juan Pablo started Rappi's rapid international expansion launching Mexico and then built and scaled Rappi's Payments and Fraud teams and capabilities while architecting the buildout of Rappi's financial services arm – starting with RappiPay.


RappiPay offers Rappi users with a variety of digital payment functionalities including in-store QR payments, P2P, and bill payment services, as well as a contactless-enabled Visa debit card.


He is a strong advocate for digital inclusion and has remained focused on evolving Rappi into the first true super-app of Latin America.


Juan Pablo received a bachelor's degree in Applied Economics from Cornell University and is an FAA Instrument Rated Commercial Pilot. He currently resides in Mexico City.