Marcelo Altieri
Senior Vice-president for Latin America at Yara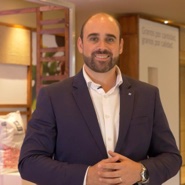 Altieri is an agroindustry engineer from the Universidad de la República (Uruguay), he has a postgraduate in Finance entrepreneuring and marketing from Boston's University and one in Global Finance from the London School of Economics. Also, he has a master's in business administration and direction from the EGADE Business School of the Tecnológico de Monterrey (México). He has 15 years of experience in the fertilizers industry.


Altieri worked from 2004 until 2012 in the fertilizers industry in Uruguay, offering assessment to producers of various crops, and developing the Market for Yara in that country. Afterwards, he started working with the company in the year 2013 as general manager of the Northwest Zone in Yara Mexico In 2015, he was promoted to the position of National Commercial Manager of Yara México, and in 2017 he assumed the position of Yara's Commercial Director for Latin America.


In January 2018 he was appointed as General Director of Yara Colombia and Regional Director of the Northern Cone (Colombia, Ecuador, Venezuela, English Guyana, French Guyana and Suriname). Since July 2020 he has been working as Yara Senior Vice President for Latin America.