Marisol Sanchez
Camara de dispositivos medicos de la ANDI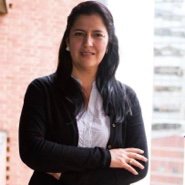 Marisol is Economist and has a master degree in Economy from Universidad Nacional de Colombia, she has also studies in Corporate Affairs and Competition.


She has experience in the public and private sectors in team management, business strategy development, market research, project development (national and international) and coordination of concertation processes.


She is an expert on the health industry (medical devices, pharmaceutical and medicinal gases), and has been a representative for the sector for international organizations such as the the World Health Organization, the InterAmerican Development Bank and the Panamerican Health Organization.


She has been member of the managing board at ICONTEC and "Corporación Calidad", in addition she was the president of ALDIMED (Latin American Trade Association for Medical Devices).


She was part of the District Health Council in Bogotá, and held the title of Technical Secretary of the Interamerican Coalition of Regulatory Convergence and Interamerican Coalition of Corporate Ethics.


She has held several positions at ANDI. At first, she was the deputy director at the Pharmaceutical Industry Chamber from 2000 to 2006. Then she was appointed Executive Director at the Chamber of Industrial and Medicinal Gases from 2010 to 2013. Finally, she holds the title of Director of the Medical Devices and Health Inputs Chamber since 2013.


She previously worked at Proexport (now Procolombia) from 1996 to 2000 as a Market Research and Sectoral Analysis Executive, and then as a Macrosector Leader (Hospital Supplies).