Rodolfo Enrique Zea Navarro
Minister of Agriculture and Rural Development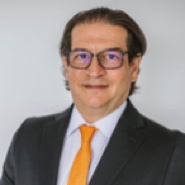 Rodolfo Enrique Zea Navarro, Minister of Agriculture and Rural Development, is an economist from Universidad de Los Andes, a specialist in international finance, with studies in stock market, budget and portfolio management from Universidad de la Sabana and a Master's degree in Business Administration from Inalde Business School of the same University.


He has more than 27 years of experience in the public sector. In 1993 he began his career as a public servant in the Governor's Office of Córdoba, later he arrived at Financiera de Desarrollo Territorial, Findeter, where he spent more than 24 years holding positions as commercial vice president, financial vice president, and general secretary. In 2017 he assumed the highest position in the finance company, the presidency of the entity, from where he consolidated sustainable strategic projects for the generation of well-being and competitiveness in the regions.


In January 2019, the Government of President Iván Duque appointed him to the presidency of the Agricultural Development Trust Company, Fiduagraria. From there, his management focused on the structuring of private capital funds for the countryside, financing schemes with fiduciary rights over land and guarantee schemes for the country's producers.