Sergio Cristancho Marulanda
Viceministro de Conocimiento, Innovación y Productividad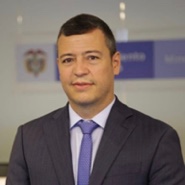 Sergio Cristancho is a pychologist from the university of Los Andes, with a master's degree and a PhD in Cultural and Environmental Psychology of University of Illinios, in the United States.


He has over 16 years of experience in the academic, specially noted for his leadership in the field of research in different institutions such as the University of Antioquia, where he was the Vice Rector of Research until his appointment in the ministry.


He has been part of the Ministry of Science, Technology and Innovation since April 2021 as Vice Minister of Knowledge, Innovation and Productivity, where he supports the design of mechanisms to finance programs, projects, and activities of related to the generation and use of knowledge, as well as issues related to innovation that promote competitiveness in the country.