German Umaña Mendoza
Minister of Industry, Commerce and Tourism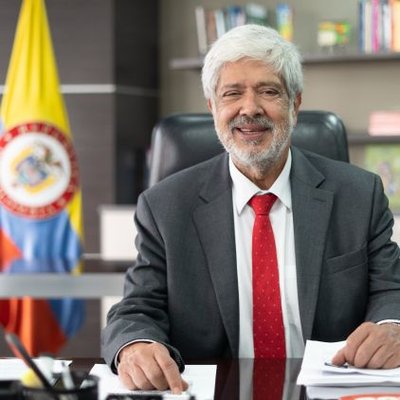 Economist, engineer and academic.


He has a master's degree in Economics, with a focus on planning and industry, from the Universidad Nacional de Colombia. He has been a university professor for more than 40 years, humanist, writer, researcher and columnist for several media.


Before being appointed minister, he served as president of the Colombian-Venezuelan Chamber of Commerce. His lines of research focus on intra and inter-sectorial competitiveness and the study of trade agreements and economic integration.


He was coordinator of the General Secretariat of the Andean Community and coordinator of the FTAA negotiations. He was also Director of the Economic and Commercial Office of Colombia to the European Union, Belgium and Luxembourg.


He has been a consultant and researcher for numerous national and international intergovernmental and private institutions, such as WB, IDB, Cepal, Junac, IBM- Sogerom, Midas, Konrad Adenauer Foundation, Mayor of Bogota, General Motors, Acesco. He was also director of the leather industry and vice-president of Fedemetal.


He has participated in projects with the Secretary of Government, the Comptroller's Office and SENA, among others, in addition to being an advisor on international issues and automotive policy to the Colombian Automotive Industry Committee and consultant to the CAN on matters of bilateral treaties with the European Union.


In the academic field, he was professor and dean of the Faculty of Economic Sciences of the Universidad Nacional de Colombia, as well as vice-rector of the Bogotá campus and director of the Centro de Investigaciones para el Desarrollo - CID (Research Center for Development) of the same University. He was also dean of the Faculty of Administrative, Economic and Accounting Sciences of the Universidad Central. He has also taught international economics at the Universidad Externado, Universidad Jorge Tadeo Lozano, Universidad Libre de Colombia and the Academia Diplomática.


He has published in journals such as Economía Colombiana, Análisis Político and Revista de Economía Institucional and has written books such as "Integración e Industria" and "El juego asimétrico del comercio: El tratado de Libre Comercio Colombia-Estados Unidos".