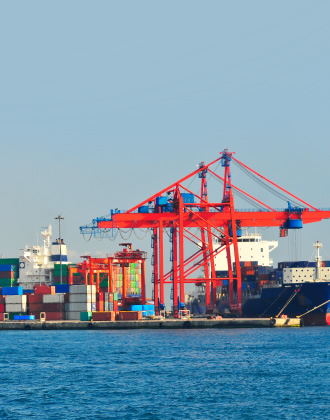 DEFENSE RE-INDUSTRIALIZATION AND PROTECTION OF LIFE
5 REASONS TO INVEST IN THE SHIPYARD INDUSTRY
With coasts on the Atlantic and Pacific oceans, Colombia has 57 seaports, as well as river basins with extensive navigable rivers.
The Jones Act exemption gives Colombia great advantages for the repair and maintenance of U.S. vessels.
Colombia has more than 1,000 companies registered which provide maritime services, mostly in supply and service activities.
The number of coastal vessels in Colombia generates an important maintenance and repair market, favoring linkages with other sectors (4,088 registered vessels).
The sector offers trained welding labor force with certifications from the International Institute of Welding, the American Welding Society and Lloyds.
54 Number of companies in the shipbuilding industry in the activities of shipyards and ship repair shops.
USD 41. 3 millones. Production value of marine products and ships in 2020.
INVESTMENT OPPORTUNITIES
Creation of strategic alliances with existing shipyards to expand service, construction, and maintenance capacities for vessels of different sizes.
Supply and investments for companies that expand their operations to Colombia in:
Steel
Technical services for propulsion systems, engines, and azimuthal systems.
Equipment or machinery for welding.
Spare parts for construction, repair, and maintenance of ships.