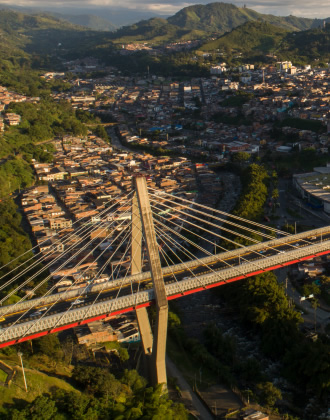 PHYSICAL AND SOCIAL INFRASTRUCTURE
5 REASONS TO INVEST IN INFRASTRUCTURE
Infrastructure plays a crucial role as one of the pillars of the national government's reindustrialization policy connecting the regions, strengthening food sovereignty, and facilitating the energy transition.

Colombia has designed the PMTI as a roadmap of strategic projects for the country's intermodal connectivity for the next 20 years that will impact 294 prioritized municipalities, through 86 projects for an estimated amount of USD 48,000MM.

The government's commitment in the infrastructure sector focuses on the expansion of multimodal transportation, through rail, river, air and road modes, as key elements for development and social inclusion.

The country ranks third in the World Bank's report as one of the most efficient countries in PPP programs, due to its capacity for the formulation and execution of public-private projects, with a project portfolio of more than USD 10 billion.

Colombia has a regulatory framework with international standards and robust institutions that facilitate and protect foreign investment, free enterprise, and private initiative.
The Community Roads for Peace program will have an estimated investment of USD 1.6 billion to rehabilitate 33,000 km of roads.
Development of social infrastructure in regions that allows an integral development of the country. Prisons, Hospitals, Schools, and Irrigation Districts will be a key bet for the coming years.
INVESTMENT OPPORTUNITIES
Roads
Rail
Fluvial
Airports
Urban renewal
Water and Sanitation
Telecommunications